Key Features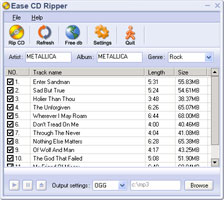 1 .Easy to use – Just one click of the button!
2 .Rip CD to MP3,WAV,OGG,WMA
3 .Convert WAV to MP3,WMA and OGG
4 .Convert MP3,WMA and OGG to WAV
5 .Support FreeDB
6 .Support ID3 tag1,ID3 tag2
7 .It's fast, no temporary files are created during ripping and converting.
8 .Automatically normalizes MP3s (WAVs) to consistent volume level.
9 .It runs well on all 32-bit Windows operating systems including Windows 95/98/NT/2000/ME/XP.
Ease CD Ripper has everything you need to convert audio-files: All in one
Minimum System Requirements
Processor type: Pentium
Processor speed: 800 MHz
Memory (Cache): 128 MB RAM
Harddisk: IDE
Operating system: Windows 95/98/Me/NT/2000/XP
Graphics: 16bits colors @ 640 x 480
Drives: IDE or SCSI CD-Rom