Ease Audio Converter is a powerful All-In-One Audio Converter includes a TTA to MP3 Converter /encoder which allows you to conver TTA to MP3, WMA, OGG, WAV, AAC, AC3, WV, WavePack, FLAC, APE, Spx, Speex, MPC ,TTA.


How to convert TTA to MP3?
1.Download And install Ease Auio Converter . Free Download

2.Adding the TTA files you wish to convert to MP3.

3.Then click output format droplist box to choose "MP3" as the output format.

4.Select your desired MP3 Bitrate, frequency and channels from settings panel and click the start button to begin the MP3 conversion process.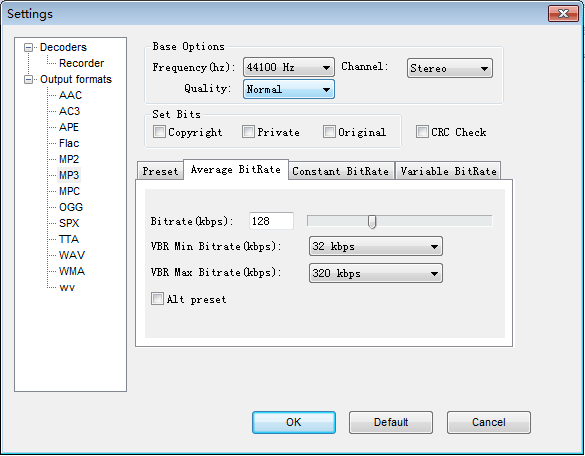 mp3 settings

Key features of Ease Audio Converter:

1.Ease Audio Converter is a four-in-one software which includes

the following modules: audio converter, audio recorder,audio cutter, audio joiner.

2.Supported Formats:
FLAC,MP3,OGG,WMA,WAV,MP4,M4A,AAC(used by iTunes),APE,AC3,MPC(MusePack),WV(WavePack),
SPX(Speex),OptimFROG,TTA ,Ra(Real audio),MP2.

3.Audio cutter utility lets you trim your FLAC files to remove silence, or unwanted sections.

4.Audio joiner utility lets you join multiple FLAC audio files into one big audio file.

5.Audio recorder :Lets you record any audio source, such as Internet radio streams, directly to a digital audio file, such as the popular MP3 format.

6 .Easy to use. Just one click of the button! Clear-cut interface features large icons for performing all major actions. Directly convert audio files without any temporary files.

7.Audio volume normalization, re-sampling, re-channel, and bit rate, auto renaming with tag information

8 .Flexible setting. The default parameters of every format work in most cases, but you can change them easily to best suit your needs.

Ease Audio Converter includes features to convert other file formats to MP3, such as AAC to MP3, or WMA to MP3. Ease Audio Converter can convert audio formats MP3, WAV, WMA, OGG, AAC ,APE,FLAC,MP2,MP4, M4A,MPC(MusePack),AC3, TTA,ofr(OptimFROG),SPX(Speex),Ra(Real audio),and WavePack from one to another.
mp3 converter,wma converter,aac converter,wav converter,ogg converter,mpc converter,
flac converter, tta converter,wv converter,ape converter,tta converter,spx converter,
ac3 converter,m4a converter